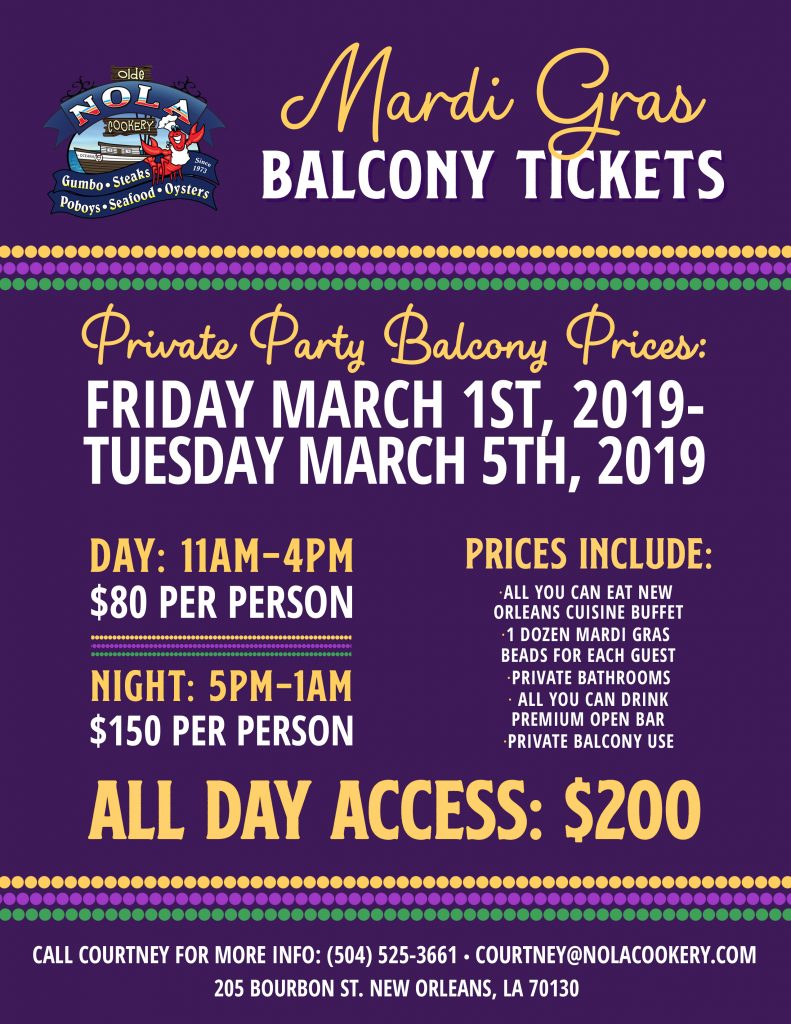 If you find a deal better than ours, we will pay for you and your party's Mardi Gras balcony tickets.
Why just watch Carnival when you can get a front row seat to all the action? With our Mardi Gras VIP Bourbon Street Balcony Tickets, you can get a full Mardi Gras experience from your coveted spot on one of our two fabulous balconies overlooking the Carnival craziness on Bourbon St.
Mardi Gras VIP Tickets include:
All you can eat New Orleans cuisine buffet
All you can drink premium open bar
Mardi Gras beads for each guest in your party
Private bathrooms
Exclusive Balcony use
Day pass: 11AM-4PM ($80)
Night pass: 4PM-1AM ($150)
ALL DAY pass: 11AM-1AM ($200)
Tickets are available for the following days:
Friday March 1st
Saturday March 2nd
Sunday March 3rd
Monday March 4th
FAT TUESDAY March 5th
We offer the most memorable and enjoyable experience in the city. Our balcony views will blow you away and so will our food! We serve some of the best Cajun and Creole dishes in the city; our Jazzy Crab Cake Platter is musical and the Bananas Foster Ice Cream Cake will have you second lining all day long.